CATÁLOGO CRONOLÓGICO
---
2019
new piece
for violin and electronics

Adagissimo / In termini estremi, Nº 3 (2019) - 9'
book for piano and electronics
a Alfonso Gómez
24 Preludes – 26'
for piano solo

butoh_II
for sopranino saxophone and electronics
a Íñigo Ibaibarriaga
---
2018
Rire de Sappho - 4' 30''
for clarinet in Bb
a J. M. Santandreu
Legatissimo / In termini estremi, Nº 2 (2018) - 5' 30''
book for piano and electronics
a Alberto Rosado


Dolcissimo / In termini estremi, Nº 1 (2018) - 7'
book for piano and electronics
a Víctor Trescolí
BSO Documental 'Las raíces de la memoria' - 47'
Dir. Fernando Castelló y Vanessa Roger

---
2017
"el viatge de nena" - 45'
music for theatrical production
for 2 sopranos, flute, cello and electronics
commissioned by Ensemble D'Arts
3 danzas modernas - 9'
for vibraphone and (a few) electronics
commissioned by Eloy Lurueña


Sola - 9'
for tenor saxophone and electronics
a Xelo Giner


---
2016
butoh - 11'
for tenor saxophone and electronics
with video artwork by Damià Jordá, based on Ko Murobushi's footage "Ritournelle".
commissioned by Íñigo Ibaibarriaga


debris - 9'
for percussion trio and electronics
commissioned by Amores Grup de Percussió - Festival Ensems 2016
Koi-ai - 12'
for ensemble (Sx, Vl, Vc, Voice, Perc) and electronics
commissioned by Ensemble D'Arts
---
2015
butoh_live - 16'
for saxophone(s) and live electronics
commissioned by Íñigo Ibaibarriaga
Naranja - 8'
for saxophone quartet and electronics
commissioned by Constelación Saxophone Quartet


Retorique - 11'
for violin, saxophone and electronics
a Xelo Giner & Jenny Guerra


Freeze it - 9' 20''
stereo fixed media (& octophonic)


BSO for "Pretty boy" - 13'
a short film by Christian Coll
---
2014
Types of blue - 14'
for flute, violoncello, piano and electronics
commissioned by Grup Mixtour


Teatro de sombras - 10'
for snare drum and electronics
commissioned by Sergio Izquierdo


Transcripción para Banda Sinfónica de
Préludes pour piano (primer livre) C. Debussy - 42'
for symphonic wind band

ready!
first recording by Josep Lluís Galiana (saxophones) & Carlos D. Perales (piano).


Baby squirrel - 7'
for 1 octave Michelsonne Toy piano and electronics
commissioned by Víctor Trescolí


---
2013
Acoustbl
MacOSX Application, for live electronics (acoustbl.com - cycling74)
apple store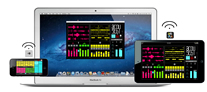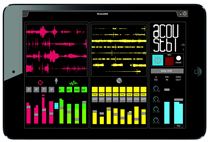 Fabula rasa - 7'
automaton application for live electronics

5 Slobodian modes - 4' 30''
stereo fixed media

Love portrait - 9'
Saxophone(s), FENDER Trio (Stratocaster Electric Guitar, Electric Precission Bass, Rhodes Electric Piano) and electronics.
commissioned by Daniel Kientzy


Entrada/pavana - 11'
Accordion and electronics


Jardines de entrada/salida - 2' 50''
stereo fixed media


---
2012
Cita de luz - 2' 20''
stereo fixed media (& octophonic)

Three liturgies - 7'
for Toy piano and fixed/media
commissioned by Víctor Trescolí

Dramatique - 7' 35''
for saxophones, mezzo and electronics
commissioned by Sonodualis (Xelo Giner and Sara Almazán)


17 Haiku - 20'
for flute and electronics
a Julián Elvira


---
2011
Tics, cracks, chops & others glamorous - 4' 33''
stereo fixed media
(& octophonic)

Cántico espiritual - 15'
cantata for alto, choir and orchestra
1Picc.1Fl (/Bass Fl.).1Ob.1Eb Cl. 1Fg.1Tb.1 bass Tb. 1Tuba.4Perc.1Accordeon.1Celesta. Male choir.Alto.1Vla solo.1Vc solo. 1Cb solo. Vlas tutti (4+). Vc tutti (4+). Cb tutti (4+).

Danzón - 6' 26''
for clarinet and electronics
---
2010
BSO for "El alma en la mano" - 53'
by Carmen Marcos & Carlos M. Barragán
Soleá - 7' 10''
for fl, cl, vl, vla, vc, piano and electronics (version 1)
for saxophone (also, alto clarinet), percussion, piano and electronics (Version 2)

Plastic bourrée - 8' 18''
stereo fixed media (& octophonic)

Dans - 8' 20''
for percussion quartet and electronics
commissioned by Kontakte, grupo de Percusión

La noche sosegada, la soledad sonora - 11'
stereo fixed media

---
2009
Theatrique - 9'
for baritone sax and live electronics
commissioned by Xelo Giner

Jeu - 10''
for 2 marimbas marimbas and electronics
jeu de perles, jeu de rumeurs, jeu de fleurs, jeu de gestes.
Soundtrack for CIPA, 2009 video promo - 7''


Electronic birds - 5' 14''
stereo fixed media (& octophonic)
remixed from de Iron bird (3' 42''), Radio bird (4' 06'') ad Cuco (3' 03''), electroacoustic miniatures

Hydra - 7' 05''
8 channels fixed media

Tangram - 9'
for percussion quartet and live electronics
(Wii Nintendo remote control)
commisioned by Kontakte, grupo de Percusión

---
2008
Creaky motion - 2' 48''
stereo fixed media
Música concreta 60 aniversario - AMEE

Sri - 8'
Version1: for symphonic Wind Band and electronics.
Version2:for orchestra and electronics
1Picc.1.1.1.1Cl-b.1.1Ct-fg.-2.2.1.1-2Perc-1Arpa-1Piano-Electronics, Strings.

Mystic nits - 4' 41''
stereo fixed media

La midi d'un marteau - 4' 41''
stereo fixed media

---
2007
Synapse - 7' 15''
stereo fixed media

Clavichord_io - 8' 13''
for clavichord and electronics

Chinese garden - 17'
for symphonic wind band

Oración de San Francisco de Asís - 4'
sopran and piano

Scherzo grotesque - 5'
for symphonic wind band

Fanfarria - 4' 30''
for 4 wind ban groups
Commisioned by Conservatorio Municipal Ciutat de Moncada, for the opening ceremony.

Petit tombeau - 7'
wood winds quintet

Dos canciones españolas - 5'
mixed choir
texto: Juan del Enzina

Missa caeci - 9''
mixed choir (4/8 voices)

---
2006
Peranakan sound design - 18'
stereo fixed media, interactive system, 4 poems about Baba house
DEA, Singapore National University - UPV (Valencia)

---
2005
Soneto - 3'
for sopran and piano
text: Ramón Molina Navarrete

Dos villancicos para niños (2005/2006) - 6'
white voices and accompaniment

---
2002
Miniaturas - 8'
for piano

---
2001
Nana - 2'
for sopran and piano

Amor y locura (2001-) 80'
Farsa metafísica en 4 partes
Picc.2.2.2.1Cl.b.2.1Ct.Fg.-4.3.3.1-Arpa-1Clave-4 Perc.-Cuerda
7 Personajes
Amor, Mezzo-Soprano
Belleza, High Soprano
Pasión, Tenor
Pereza, Bass
Mentira, Tenor
Envidia, High Buffo - Tenor
Locura, Coloratura Soprano
Ensueño, Baritone
Coro

Libreto: José Biedma López
Argumento
Proemio
Virtudes y vicios, y demás Potencias Inmortales se aburren en la eternidad. Pasión y Amor sugieren la creación de la vida y de la historia, ¡pero todavía no está el horno para bollos! Locura propone jugar al escondite.

Primer Acto
Las Potencias Inmortales se van escondiendo, mientras Locura cuenta… Pasión decide hacerlo en el fondo de un volcán. Ensueño se despereza, discute con Envidia, se describe a sí mismo y, al fin, se oculta en el rabo de una nube; Envidia, tras un montón de basura. Mentira empieza a dar un mitin, dialoga con Belleza, tropieza y se esconde tras un árbol, asomando su plumero. Belleza lo hace en la quietud del ocaso.
El coro de Demonios y Dioses comentan el desvalimiento y recursos de Amor. Canta éste su naturaleza contradictoria e intermediaria mientras se esconde tras un rosal.
Acto Segundo
Locura sale a la búsqueda de los demás, enseguida hace esclava a Pereza, que se queja. Descubre después a Envidia y la interroga por los demás, acariciándola y halagándola. Envidia canta y denuncia a Ensueño y Pasión. Belleza, que andaba estelar, inspirando mundos, hace su reaparición mundana, descubierta por Locura, quien le anima a bailar con ella, pero Belleza no danza sino con Amor. Locura pregunta por él y, al no saber donde se oculta, hace lo propio y enloquece, coge una horca y arremete contra el mobiliario del escenario, hasta que pincha el rosal y se oye el quejido inmenso de Amor herido en los ojos, ya ciego.
Amor lamenta no poder ver más a quien persiga. El coro prevé los inconvenientes y extravagancias que provocará en el mundo la ceguera de Amor.
Conclusión
Las Potencias juzgan a Locura por la mutilación de Amor. Belleza y Ensueño, que hacen de abogados de la víctima, piden para él una pensión de invalidez perpetua, pagada por la imputada. Envidia y Pereza, defensoras de Locura, alegan falta de intencionalidad en el "accidente" y culpan a Destino, al que nadie ha visto jamás.
El Coro dicta sentencia: Locura será lazarillo de Amor, y así guiará siempre a éste cuando baje por el mundo a repartir sus favores.

José Biedma López

---
2000
Slob art - 8'
fantasy for piano and orchestra
3.3.3.3., 4.3.3.1., 5 Perc.-Cuerdas

---
1999
Canciones de juventud (1999/2002) - 8'
for sopran and string orchestra
texto: Joaquín Montes Bardo

---
1998
Paraphrases - 25'
concert for orchestra
2.2.2.2-2.2-2Perc.-Strings

Stabat mater - 4'
mixed choir

---
1996
Nuestra señora de las penas - 5'
processional march
cornets and trumpets band

---
1995
Libro sacro (1995/2007) - 15'
voice and organ
(salms and prays)

Marcha procesional - 3'
4tp. 3tb. Glockenspiel.

Missa solemnis - 15'
mied choir and organ